.
TIP: Teams are set by Workspace Managers and have two core purposes within a workspace:
1) To group members of a workspace together so you can easily send notifications to multiple people in one click. You can send shares and comments to teams as well as individuals. Click here to see more about how comments and teams interact.
2) To be associated with levels of folder access. This way if you have external teams and internal teams you are able to control what your external teams can see. Click here to find out how to manage access levels after you have set up teams.


This article will show you how to:
Remove users from teams or change the teams a user is in
.
I) How to set up teams in Huddle
a) To set up teams you will need to go to the Settings tab of the workspace you are configuring. You will only have access to this tab if you are a Workspace Manager.
b) Once you are in the settings tab, you will see a row of buttons. Select Teams from the list to start building yours.
c) When you have clicked on Teams, this is the window that will appear.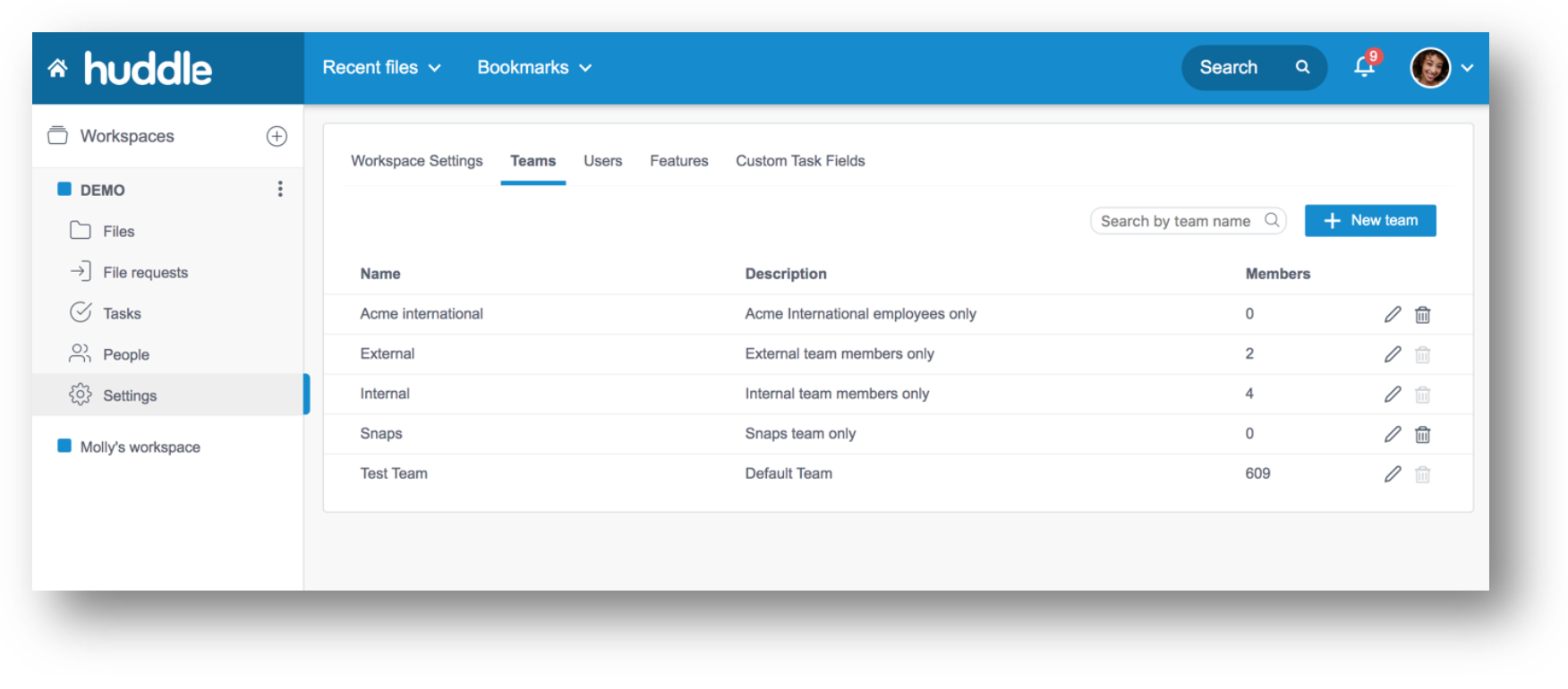 d) To add a team to the workspace, click on New team
e) This will open the following text box under the list of existing teams.
f) Give the team a name and a description if desired. Then click on Create. Your team will be added to the list above. There is no limit to the number of teams you can create.
g) You can also edit (to change title and description) and delete teams using the following buttons.
Please note, a team must have no users in order to delete it. Please see below how to add and remove users.
h) If you have a large list of teams, you can easily search for the team you're looking for using the 'Search' tool.
.
II) How to add users to teams in Huddle
a) You can add users to teams as they are invited into the workspace. this is our recommended method. Click here to be taken to a guide that will show you how to invite users and add them to teams.
b) You can also add users to teams from within the Settings tab. Click on the Users button to do this.

c) Once you have clicked on Users you will see a list of all the members of your workspace.
You can search for a user using the Search tool, then select the 'Edit' button.
d) You will then see the following pop up window for that particular user where you can search for the chosen team name (1.), select the chosen team name (2.) and also make them a workspace manager if you wish to (3.). Then hit the 'Save' button at the bottom right.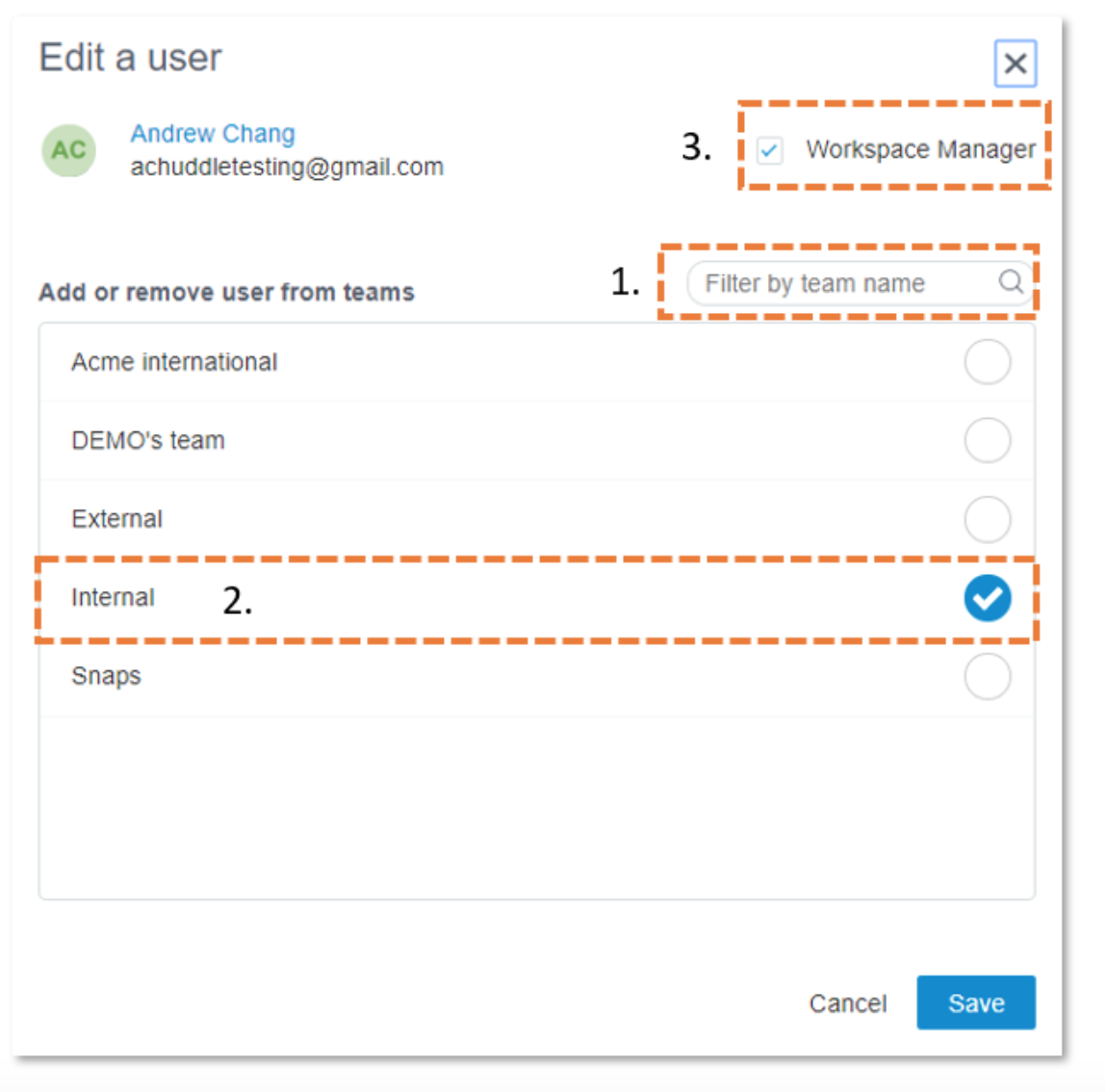 .
III) How to remove users from teams or change the teams a user is in
a) To edit the teams a user is a member of, click on the Users button under the Settings tab.
b) Select the 'Edit' button
TIP: All workspace members must be in at least one team, therefore you will not be able to remove a user from a team if it is the only team they are a member of.
c) The following pop up will appear. Simply uncheck the team you wish to remove the user from and select 'Save'.
.
IV) How to delete teams
TIP: In order to delete a team from a Huddle workspace, the team needs to have no members in it. Follow the steps in part III to remove users prior to deletion.
a) Find the team that you would like to delete under Settings > Teams.

b) Click on Delete next to the team you want to get rid of.
c) Click on delete to confirm. Your team will be deleted.