.
Inviting someone to work with you in Huddle is simple. First, you need to navigate to the workspace that you would like to invite them to. If you are not sure how to navigate your workspaces, you will find a full guide on this here.
To add a new user to Huddle, all you need to do is invite them as below.
TIP: In order to invite someone into a workspace, you need to be either the Workspace Manager or the workspace will need to be set up to allow all users to invite others Therefore your ability to invite users can vary on a workspace by workspace basis. 
1) Once you are in the workspace that you wish to invite someone into, click on the invite users button.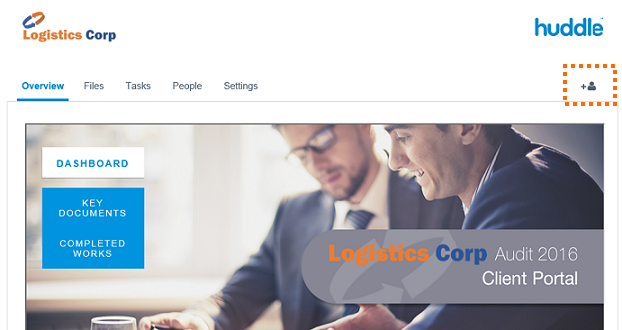 2) Huddle will open a window for invitations. 
. 
3) In the first text box, type the first or second name of the person you would like to add. If this person is already a user of Huddle under your company account their name will pop up in boxes below.
4) Select the required names from the drop-down menu and they will be added in the first text box. If you are inviting a new user to your Company, simply type their email address into the text box. 
5) Add your selected users to a team before inviting them to the workspace to ensure that any folder access levels you may have set up are respected. Then click on send invitation. 
6) The selected users will be sent email invitations to your workspace. 
TIP (email whitelists): If you try to add someone who is not included on your company's email whiltelist you will be notified that you cannot add the person to the workspace. You will need to ask your Company Manager to add them to the company whitelist. To read more about email whitelisting, click here.