Once you have your Huddle plugins installed you can make use of the extra functionality they give you. If you do not have them installed yet, click here to be taken to where you can download them. If you need help from IT to install software on your PC you can ask them to do it for you and send them this information.
When you have these installed you will be able to open documents stored in Huddle in their native application where you will also find the comments feed from Huddle.
This means that you will be able to leave comments in real time online as you work without having to switch between your Office application and the Huddle Web App.
1) Locate the desired document in Huddle and open it in an Office application like Word using your Huddle for Desktop Plugin.
2) When your document is open, you will see the comments feed appear on the right hand side of the screen.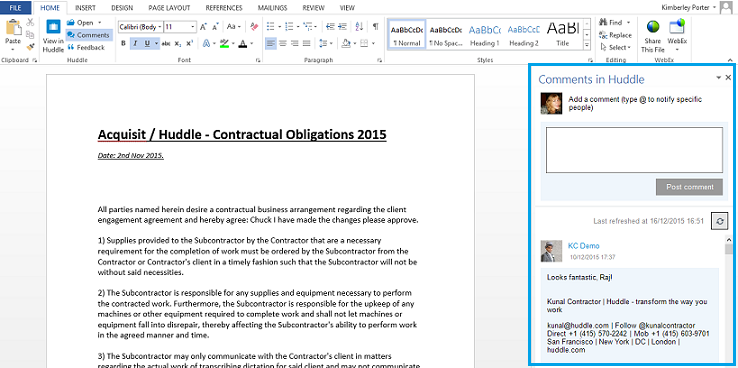 3) Add a comment in the box and click on Post Comment to have it added to the feed. This will automatically sync with the Huddle web app so anyone viewing the file online will see your new comment.
4) If you need to contact a colleague by tagging them in your comment you can also do this from your office application. Simply type the @ symbol followed directly by the desired colleague's name. Comments in Office work exactly the same way as on the web app. For an in depth guide to comments, click here.