Once you have your Huddle plugins installed you can make use of the extra functionality they give you. If you do not have them installed yet, click here to be taken to where you can download them. If you need help from IT to install software on your PC you can ask them to do it for you and send them this information.
If you start a document in Microsoft Word it it is easy to save it straight to Huddle thanks to our integrations. Here is a step by step guide to saving your Microsoft Word documents to Huddle.
1) Start writing your document in Word.
2) Click on the save to Huddle button in the task bar.
3) This will open a new window allowing you to choose where you want to store this file in Huddle. Click on the home icon to navigate through your list of workspaces. You can change the title of your file in the first text box before uploading.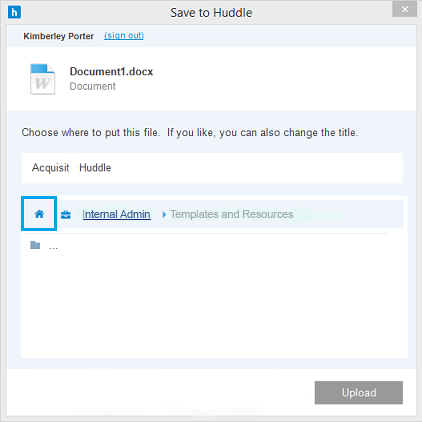 4) Select your desired workspace and folder then click on upload to save your document to Huddle.
5) Your document will upload to Huddle. It will take a second for the link to be created. once this is finished the comments feed from Huddle will appear in Word alongside your document. Now when you click save, any changes you make will be saved to Huddle as well.
6) If you want to view your document in Huddle simply click on the view in Huddle button in the task bar, which will take you straight to the file on the web.