Huddle Tasks 2019 Update
Now, with our 2019 Tasks Update, you can create, view, edit, set deadlines and assign tasks right from file view.
With so many activities in Huddle centering on documents, you can view associated tasks for the document you are currently working on without having to visit the Tasks tab.
Any tasks you create in file view are immediately visible and editable in the tasks tab so everyone in the Workspace can see a complete list of all open tasks in a single location.
Create a task in a file
To create a task in a file, you first need to navigate to the file and then click on the "Tasks" menu. Click on the " + " sign to create a new task.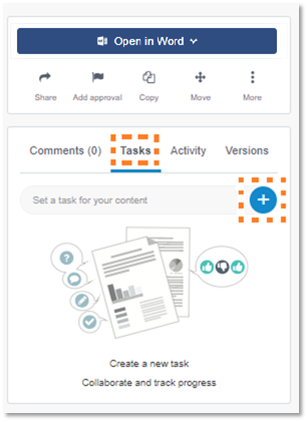 Basic details can be entered such as Title and Description. The task can be assigned to individuals or teams.
A Start date and a Due date can be selected if a deadline is required.
Once the task is created a notification will be displayed to state that the task is "saved" as shown below.

Viewing a task
You can view associated tasks on the current documents that you are working by clicking on "tasks".
All tasks associated to the document will be displayed as shown below.
Update the status of a task
To update the status of the task, Click on the Title of the task to open it and select the appropriate status and then click on "Save".
The status of the task will be marked by a colour coded strip:
Not started - Grey
In progress - Yellow
Completed - Green
To delete a task in a file
To delete a task you can click on the "Bin" Icon. You will then be presented with a confirmation box as shown below.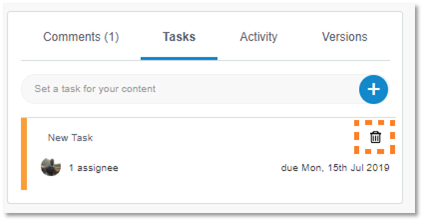 Task Notifications
Huddle will send you task notifications by email in four circumstances:
a) If you have been assigned a task.
b) If a task you have assigned to someone has been updated.
c) If someone has left a comment on a task you have set.
d) If the due date of a task you have been assigned in Huddle is within three days of expiring.
Where to access and manage Tasks
Tasks created in files will be visible on the tasks tab for that workspace.
All tasks can be viewed on the workspace overview page.
Changes to Task settings, status changes, Comments will be listed the activity feed on the workspace dashboard.
To find out more about tasks please click here