.
Huddle makes it easy for you to find the files you need as quickly as possible. One of the most effective ways of taking advantage of this is with recent files. 
You will find your recently viewed documents on the web app, Huddle for desktop and the iOS mobile app. This guide will take you through how to use all three. Your recent files are synced across all three platforms so no matter where you are or what device you are using you will always have access to the most up to date information, click here to read more about cross platform recents. 
Click on the links below to be taken to specific sections of this article:
I) Recent files on the web app:
.
1) Log in to Huddle.
2) Click on the drop down menu that allows you to choose a workspace.
3) To the left of your list of workspaces you will see a list of your 50 most recently viewed or edited files. 
4) Click on a document title to be taken straight to its location in Huddle.
II) Recent files on Huddle for Desktop:
.
1) Open the Huddle for Desktop window by clicking on the huddle icon in your task bar. 
2) There are 3 tabs on the Huddle for desktop window, Recent files is the first one.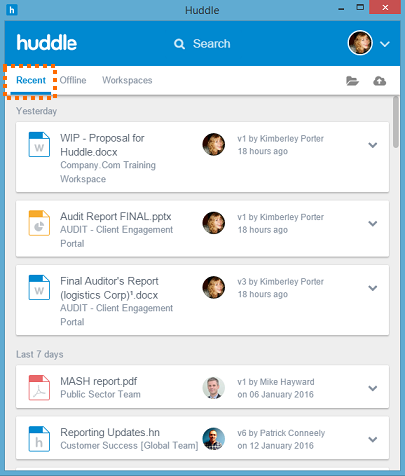 3) Here you will find a list of your 50 most recently viewed or edited files. 
4) Click on the document title to open in on your Desktop for editing or reading.
For a complete walk-through on how to use Huddle for desktop, click here. 
III) Recent Files on iOS: 
.
1) The iOS app works the same way if you are using an iPhone or an iPad. Open your Huddle app. 
2) Click on Files.
3) Select Recent. 
4) You will be presented with a list of your 50 most recently viewed or edited files.
IV) Removing a file from your recents list:
.
1) You can easily remove recents thanks to Huddle for Desktop. To begin, open the desktop window. 
2) Go to the Recent tab. 
3) Locate the file you would like to remove.
4) Click on the blue arrow to the right hand side of the document title.
5) Select remove recent from the drop down meu. This file will now be removed from your recents list on Huddle for desktop, the web app and the iOS app.