You can leave any Workspace you are a member of from it's Overview page. here is a guide that will walk you through what to do. Remember that if you have left a Workspace and you want to see its contents again, you will need to be invited back in by a member. 
1) Click the Workspace tab in the top left corner of your Huddle screen. 
3) Select the Workspace you want to leave from the list.
4) Make sure you are on the Overview page of the Workspace in question.

5) Scroll to the bottom of the screen. On the right hand side you will see 'Remove me from this Workspace'. 
6) Click 'Remove me from this Workspace'.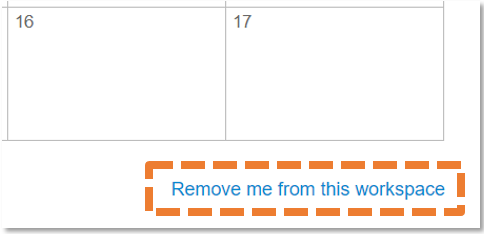 7) You will now no longer be a member of the Workspace and it will disappear from your Workspace picker menu. 
TIP: If you are in a Workspace that has no Overview page, you will need to ask your Workspace Manager(s) to remove you. You can find out who your Workspace Manager is by looking at the People tab.