We release regular updates to the Huddle web app and it is the same for Huddle Desktop. To make sure you are running the latest version of the software you will need to check which version you currently have. The steps that explain how to do this are detailed below.
You should be able to use the screenshots in this guide to quickly see if you have the most up to date version of Huddle for desktop. 
Click here to see what v.2.5 and below look like.
Click here to see what v.4.1.0.0 looks like.
I) How to check your version on 2.5 and below
 .
1) Right Click on the Huddle symbol that sits in your task bar in the bottom right hand corner of your screen.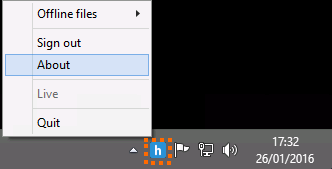 2) This will bring up a menu. Right click on About in the menu.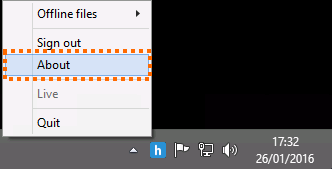 3) A new window will appear on your PC. You will find which version of Huddle Desktop you are running written in the bottom left hand corner of the window. 
II) How to check your version on 4.1.0.0
.
1) Click on the arrow next to your profile picture in the Desktop widget.
 2) Then select about from the drop down menu. 
3) Under support you will see the details of the version of Desktop that you have. The most up to date version of the software is v.4.1.0.0
If you need to update your Huddle Desktop app to the newest version, click here to be taken to where you can download it yourself. If you need help from IT to install software on your PC,  this information will enable them to do it.